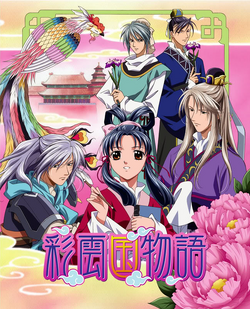 The Story of Saiunkoku (彩雲国物語, Saiunkoku Monogatari) anime series was produced by Madhouse Studios and directed by Jun Shishido. It premiered in Japan on NHK on April 8, 2006. The first season ran for 39 episodes until its conclusion on February 24, 2007. The second season, referred to as Saiunkoku Monogatari Second Series (彩雲国物語 第2シリーズ), premiered on April 7, 2007 and ran for another 39 episodes until its conclusion on March 8, 2008.
In May 2007, Geneon Entertainment announced it had acquired the license to releases the anime in North America with English language options. In September 2007, after only two volumes had been released, Geneon closed its North America operations. In July 2008, Funimation Entertainment announced that it will distribute several Geneon titles, including The Story of Saiunkoku.
Based on the light novels by Sai Yukino, The Story of Saiunkoku tells the story of a kingdom who is recuperating after a tumultuous civil war that left the throne in the hands of an incapable Emperor, who inherited the throne after four of the other heirs were arrested for treason while another one was exiled.
Kou Shuurei, a spirited but impoverished young noblewoman who aspires to become a government official in hopes of bettering her country, finds her dreams inhibited by the fact that women are barred from civil service. Her father, Kou Shouka, works in the Archives of the Imperial Palace, a position that offers some prestige, though does not pay well. Shuurei teaches at the local temple and works at various jobs to help make ends meet.
In order to force Shi Ryuuki, the Emperor of Saiunkoku, to take up his responsibilities, Shuurei agrees to the request of the Emperor's advisors to become the Emperor's consort for six months. Through Shuurei's influence, Ryuuki strives to become a good emperor and the lives of everyone they come to know begin to change. As Shuurei accomplishes her dream of becoming an official, the story follows her interactions with the Emperor and other members at court; the political intrigues that take place within the imperial court; and her commitment to better herself and her country.
#
Title
Original Air Date
01
Every Good Deal has a Catch
Umai hanashi ni wa ura ga aru (うまい話には裏がある)
April 8, 2006
Shūrei Hong, a young lady from the honourable Hong Clan, lives in Saiunkoku's Imperial City, Kiyo, where she makes a living by teaching children and struggles to make ends meet. One day, a high official from the Imperial court, Advisor Sho, arrives with a once-in-a-lifetime offer. Dazzled by the chance to be allowed in the Imperial compound and the high compensation rate, she readily accepted his offer and becomes a consort and tutor for the new Emperor of Saiunkoku.
02
A Frog in the Well Knows Not About the Ocean
I no naka no kawazu taikai o shirazu (井の中の蛙大海を知らず)
April 15, 2006
Shūrei enters the Royal Harem as the consort and person-in-charge of educating the new Emperor, Ryūki. As she spends the days with him, she has the inkling of an idea that he isn't the fool everyone makes him out to be. On the contrary, she feels that he may turn into a good king if given the right opportunity and education. After learning that Ryūki has never gone into the city, she secretly takes him out to the downtown area in order to show him the lives of the common people.
03
A Capable Falcon Hides Its Talons
Nō Aru Taka wa Tsume o Kakusu (能ある鷹は爪を隠す)
April 22, 2006
04
Treasure Buried is Treasure Wasted
"Sore wa takara no mochigusare (それは宝の持ち腐れ)
April 29, 2006
05
A Genius Can't Better a Hardworking Man
Doryoku ni masaru tensai nashi (努力に勝る天才なし)
May 6, 2006
06
Lacking the Finishing Touch
Garyōtensei o Kaku (画竜点睛を欠く)
May 13, 2006
07
He who swims a lot will drown
Yoku oyogu mono wa oboreru (よく泳ぐ者は溺れる)
May 20, 2006
08
To Borrow a Cat's Paw
Neko no te mo karitai (猫の手も借りたい)
May 27, 2006
09
A Journey of a Thousand Miles Begins with a Single Step
Senri no michi mo ichi-ho kara (千里の道も一歩から)
June 3, 2006
10
Good Things Come to Those Who Wait
Mateba kairo no hiyori ari (待てば海路の日和あり)
June 10, 2006
11
There is No Cure for Lovesickness
Koi no yamai ni kusuri nashi (恋の病に薬なし)
June 17, 2006
12
Escape is a Win in Itself
Nigeru ga kachi (逃げるが勝ち)
June 24, 2006
13
From a Gourd Springs a Horse
Hyōtan kara Koma (瓢箪から駒)
July 1, 2006
14
Three Years on a Rock
Ishi no ue ni mo sannen (石の上にも三年)
July 8, 2006
15
A Child Knows Not of His Parent's Feelings
Oya no kokoro ko shirazu (親の心子知らず)
July 15, 2006
16
There are No Demons in This World
Wataru Seken ni Oni wa Nai (渡る世間に鬼はない)
July 22, 2006
17
Poking a Bush Draws Out a Snake (Let Sleeping Dogs Lie)
Yabu o tsutsuite hebi o dasu (藪をつついて蛇を出す)
August 26, 2006
18
Hiding One's Head but Not One's Bottom
Atama kakushite shiri kakusazu (頭隠して尻隠さず)
September 2, 2006
19
Send Your Dear Child on a Journey
Kawaii ko ni wa tabi o saseyo (かわいい娘には旅をさせよ)
September 9, 2006
20
Flowers Blooming from Dead Trees
"Kareki ni hana saku (枯れ木に花咲く)
September 16, 2006
21
The Wise Man Does Not Court Danger
Kunshi ayauki ni chikayorazu (君子危うきに近寄らず)
September 23, 2006
22
While There's Life, There's Hope
Inochi atte no monodane (命あっての物種)
September 30, 2006
23
Companionship in Travel, Compassion in Life
Tabi wa Michizure Yo wa Nasake (旅は道連れ世は情け)
October 7, 2006
24
Bolt Out of the Blue
Nemimi ni mizu (寝耳に水)
October 14, 2006
25
An Accidental Resemblance
Tanin no sorani (他人のそら似)
October 21, 2006
26
Crows in a Moonless Night
Yamiyo no karasu (闇夜の烏)
October 28, 2006
27
The Prettier the Flower, the Higher the Branch
Hana wa Oritashi Kozue wa Takashi (花は折りたし梢は高し)
November 18, 2006
28
The Fear is Worse than the Danger Itself
Anzuru yori umu ga yasushi (案ずるより産むが易し)
November 25, 2006
29
Every Moment Feels Like an Eternity
Ichijitsu Senshū no Omoi (一日千秋の思い)
December 9, 2006
30
Judge Women by Courage
Onna wa dokyō (女は度胸)
December 16, 2006
31
A Diamond in the Rough
Hakidame ni tsuru (掃きだめに鶴)
December 23, 2006
32
A Woman's Word is Her Bond
Onna ni mo Nigon Nashi (女にも二言なし)
January 6, 2007
33
No Use Crying Over Spilled Milk
Fukusui Bon ni Kaerazu (覆水盆に返らず)
January 13, 2007
34
Fight Poison with Poison
Doku o motte doku o seisu (毒をもって毒を制す)
January 20, 2007
35
Every Meeting Begins in Parting
Au wa wakare no hajime (逢うは別れの始め)
January 17, 2007
36
All is Right with the World
Yo wa subete koto mo nashi (世はすべてこともなし)
February 3, 2007
37
Tears Fall from the Eyes Like Rain Falls from the Skies
Ame wa ten kara, namida wa me kara (雨は天から, 涙は目から)
February 10, 2007
38
Seize the Day
Kyō no Nochi ni Kyō Nashi (今日の後に今日なし)
February 17, 2007
39
Fate Decides Who Falls in Love
En wa I na Mono Aji na Mono (縁は異なもの味なもの)
February 24, 2007
#
Title
Original Air Date
01
There's No Place Like Home
Wagaya ni Masaru Tokoro Nashi (わが家に勝る所なし)
April 7, 2007
02
Life Goes On Despite Tears and Laughter
Naku mo warau mo onaji isshō (泣くも笑うも同じ一生)
April 14, 2007
03
Birds of a Feather Flock Together
Rui wa Tomo o Yobu (類は友を呼ぶ)
April 21, 2007
04
If Winter Comes, Can Spring be Far Behind?
Fuyu Kitarinaba Haru Tōkaraji (冬来りなば春遠からじ)
April 28, 2007
05
Love is Not Stingy in Giving
Ai wa Oshimi Naku Atau (愛は惜しみなく与う)
May 5, 2007
06
A Peal of Thunder in a Blue Sky
Seiten no hekireki (青天の霹靂)
May 12, 2007
07
Wholeheartedness Penetrates Even Stone
Isshin iwa o mo Tousu (一心岩をも透す)
May 19, 2007
08
Exhausting Human Abilities, One Waits for Heaven's Will
Jinji o Tsukushite Tenmei o Matsu (人事を尽くして天命を待つ)
May 16, 2007
09
Meeting the Buddha in Hell
Jigoku de hotoke ni au (地獄で仏に会う)
June 2, 2007
10
The Awaited Person Finally Arrives
Machibito Kitaru (待ち人きたる)
June 9, 2007
11
The Husband is Always the Last to Know
Shiranu wa teishu bakari nari (知らぬは亭主ばかりなり)
June 16, 2007
12
There is No Courage If You Do Not Do What is Just
Gi wo mite sezaru ha yuunaki nari (義を見てせざるは勇なきなり)
June 30, 2007
13
Hurrying Leads to Mistakes
Seite wa Koto o Shisonjiru (急いては事を仕損じる)
July 7, 2007
14
Enter the Tiger's Den
Koketsu ni Iru (虎穴に入る)
July 14, 2007
15
A Flash of Time
Issun no Kōin (一寸の光陰)
July 21, 2007
16
Candle in the Wind
Fūzen no tomoshibi" (風前のともし火)
July 28, 2007
17
Up and Down Seven Times
Ukishizumi Nanatabi (浮き沈み七度)
August 4, 2007
18
The Road is Distant After Sunset
Hi Kurete Michi Tōshi (日暮れて道遠し)
September 15, 2007
19
Counting Your Chickens Before They Hatch
Toranu tanuki no kawa zanyo (捕らぬ狸の皮算用)
September 22, 2007
20
All is Lost That is Given to a Fool
Noren ni ude oshi (暖簾に腕押し)
September 29, 2007
21
A Frog's Child is a Frog
"Kaeru no ko wa kaeru (蛙の子は蛙)
October 6, 2007
22
A Insect in a Lion's Body
Shishi shinchū no mushi (獅子身中の虫)
October 13, 2007
23
Misery Loves Company
Nakitsura ni hachi (泣き面に蜂)
October 20, 2007
24
One Good Turn Deserves Another
Nasake wa hito no tame narazu (情けは人のためならず)
October 27, 2007
25
The Hardships of Youth are Worth Bearing
Wakai Toki no Kurō wa Katte mo Seyo (若いときの苦労は買ってもせよ)
November 3, 2007
26
Even the Wisest will Flee When They are Fools
Taiken wa Gu naru ga Gotoshi (大賢は愚なるが如し)
November 11, 2007
27
Better to Be the One Who Waits Than the One Who is Awaited
Matareru mi yori matsu mi (待たれる身より待つ身)
November 17, 2007
28
Peaches and Chestnuts in Three Years, Persimmons in Eight
Momo Kuri Sannen Kaki Hachinen (桃栗三年柿八年)
November 24, 2007
29
Absence Makes the Heart Grow Fonder
Tōzakaru hodo Omoi ga Tsunoru (遠ざかる程想いが募る)
December 1, 2007
30
The Silent Firefly's Body Consumed by Love
Nakanu hotaru ga mi o kogasu" (鳴かぬ蛍が身を焦がす)
December 12, 2007
31
One Reaps What One Sows
Mi kara deta sabi (身から出たさび)
January 5, 2008
32
With Painful Reluctance
Ushirogami o hikareru (後ろ髪を引かれる)
January 12, 2008
33
As the Seasons Change, So Does the Mind
Tsukihi Kawareba Ki mo Kawaru (月日変われば気も変わる)
January 26, 2008
34
Bluer than Indigo
Ai yori aoshi (藍より青し)
February 2, 2008
35
Crossing a Dangerous Bridge
Abunai hashi o wataru (危ない橋を渡る)
February 9, 2008
36
Fortune is Where One Finds It
Jinsei Itaru Tokoro ni Seizan Ari (人生いたる所に青山あり)
February 16, 2008
37
The Eyes are the Mirror of the Soul
Me wa kokoro no kagami (目は心の鏡)
February 23, 2008
38
Friends Through Life an Death
Funkei no Majiwari (刎頚の交わり)
March 1, 2008
39
Fate Crosses the Distance
En Areba Senri (縁あれば千里)
March 8, 2008
Cast and Staff
Edit
Director: Jun Shishido
Series Composition: Reiko Yoshida
Script: Ayuna Fujisaki, Kurasumi Sunayama, Reiko Yoshida
Storyboard

Hiromi Yokoyama
Jun Fujiwara
Jun Shishido
Kimiko Tamai
Kiyotaka Ohata
Shigeru Kimiya
Takeo Takahashi
Yo Miura
Yumi Kamakura

Episode Director

Hajime Ohtani
Hiromi Yokoyama
Makoto Shinohara
Shota Kawajiri
Tokio Yamauchi

Music: Kunihiko Ryo
Original creator: Sai Yukino (novel)
Original Character Design: Kairi Yura (novel illustration)
Character Design: Miwa Oshima
Art Director: Chikara Nishikura
Animation Director

Ki Duk Park
Kimiko Tamai,
Kyong Seok Choi,
Nam Yul Park
Seong Jong Kim
Tatsuyuki Maeda
Tomoko Shimizu

Sound Director: Fusanobu Fujiyama
Director of Photography: Shinya Matsui
Producer: Ikuko Shimogawara, Yuji Shibata
Animation producer: Masao Maruyama, Satoshi Yoshimoto
Background Art

Kumiko Inoue
Makiko Fujino
Manabu Fukuda
Mayumi Shirata
Rina Fujiwara

Clean-Up Animation: Hitomi Takei
Color design: Chiharu Tanaka
Conceptual Design: Kazuo Watanabe
Editing: Kashiko Kimura
In-Between Animation: Kanoko Abe
Key Animation: Mika Takazawa
Photography: Natsuka Kawano, Tomohiro Suga
Production Coordination: Atsuko Kashiwagi, Hideo Ihara
Recording: Hiroyasu Yamashita
Sound Effects: Shoji Kato
Theme Song Arrangement: Akihira Koyama (ED), Takeshi Fujii (ED), YANAGIMAN (OP)
Theme Song Composition: ID (OP), Sachi Tainaka (ED)
Theme Song Lyrics: Sachi Tainaka (ED)
Theme Song Performance: Ayaka Hirahara (OP), Sachi Tainaka (ED)
The series uses three pieces of theme music. "Hajimari no Kaze" (はじまりの風, lit. "Wind of Beginnings") by Ayaka Hirahara is used for the opening theme for both the first and second seasons. For the ending theme, "Saikō no Kataomoi" (最高の片想い, lit. "The Greatest Unrequited Love") by Sachi Tainaka is used for the first season, while "Asu e" (明日へ, lit. "To Tomorrow") by Miho Teruya is used for the second season.
References
Edit